© 2023 AATrikes. All rights reserved.
Website Updated - March 2023
California Side Car & Motor Trike Authorised Trike Conversions
And The UK's Only Hannigan Trike Installer
AATrikes, Home to the full range of CSC Trike & Motor Trike conversions and the only Hannigan trike installer in the UK!
Why AATrikes ?
Why California Sidecar?
SUPERB ENGINEERING & EXQUISITE DESIGN
With a CSC trike conversion you can be sure you're getting unparalleled performance with the most innovative and beautifully styled trike kits on the market. From the newly redesigned Sport I/S for the GL1500 to the newly released Viper trike kit for the GL1800 and the all new Encore for the 2018 Goldwing and Goldwing Tour, California SideCar continues to lead the way in innovation, styling and performance. Whether you're cruising the motorways or tackling the curves, CSC trike conversions inspire complete confidence in every type of riding condition.
For over 30 years, California SideCar has earned an excellent record of performance, durability and safety. CSC's extensive experience in the industry means decades of research, testing and design of optimal performance equipment with knowledge and attention dedicated to engineering, safety and comfort. CSC works hard to provide loyal customers with a safe and smooth ride for thousands of miles across the world.
Most components on CSC trike kits are designed specifically for our trikes. You won't find any generic automotive brake callipers or suspension components on our trike kits. Why settle for parts that were designed for a completely different vehicle on your trike? CSC values the performance and safety of all our products and tests every one. We have found that in order to be the best we have to go one step further than our competition, and designing/manufacturing our own components is just one of the many things that distinguishes us from the rest.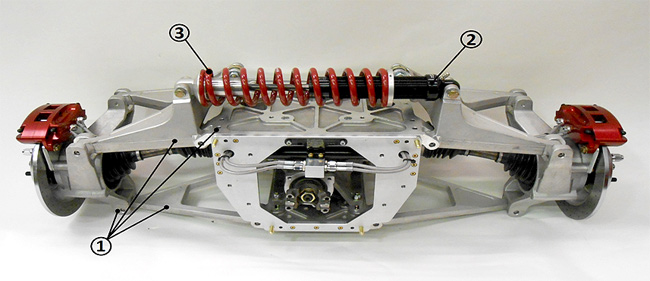 Hands down, the most innovative suspension design on the market. CSC's suspension features:
Light weight & strong cast and forged aluminium structural components
Purpose designed JRI nitrogen-charged shock
Eibach 300Lb spring designed to accommodate a loaded weight of up to 650lbs.
O.E.M. hydraulic spring preload adjuster is retained for Honda GL1800 kits. Other models feature a CSC hydraulic preloader option.
Maintenance and adjustment free components
DRIVETRAIN
Our Shaft Drive models feature a proprietary cast aluminium differential housing, enclosing our purpose built ring and pinion. The drive shaft is also unique to CSC. We have designed it using a combination of both custom parts and high quality automotive components for incredible durability, longevity and low maintenance.
CSC has used a drive shaft designed specifically for our trikes that has proven to be incredibly reliable since its release in 2011. This drive shaft replaces the Honda motorcycle drive shaft that is prone to failure in trike applications.
DISC BRAKE SYSTEM
Our braking systems surpass all others in efficiency and safety with truly confidence-inspiring braking performance.
All CSC brake systems are completely integrated with O.E.M Linked Braking and we offer full ABS integration on all models.
Application specific, proprietary, patented, forged & CNC machined, four-piston, aluminium alloy brake callipers.
Our performance upgrade offers drilled & nickel plated rotors with vented and red anodised callipers for improved heat dissipation.
REVERSE DRIVE
While Goldwing GL1800 & GL1500 models retain the O.E.M reverse, CSC's Integrated Electronic Reverse is an available option to all our other models. Simply push the activation button in neutral which illuminates an indicator light. Then the horn or starter (per model) button will move you backwards. Our safety features disable reverse with the brakes or placing trike in gear.
BOLT-ON INSTALLATION
All CSC trike conversions are completely bolt-on kits. No welding required. Every kit we sell comes with mounting hardware, detailed photo instructions, wiring harnesses, and technical support.
WARRANTY
5 years, unlimited miles. Warranty repairs will be made at no charge for parts and labour provided that the conversion kit was installed by a "Factory Authorised CSC Dealer". Defects in the fibreglass, paint, chrome trim, light bulbs, LED or other appearance parts are covered for a period of 6 months.